Scott's Photographica Collection
Universal Camera Corporation
Univex AF-2 Camera
Univex AF-2 Camera
The Universal Camera Corporation of New York City, New York was a successful low-priced camera manufacturer during the 1930s and 40s.
The Univex AF series of miniature folding cameras were introduced in 1935 at the incredibly low price of 1.00 US dollar. Despite the reduced buying power of a public struggling through the Great Depression, Universal Camera Corporation's aggressive pricing on all its model lines helped it to sell many cameras.
This camera is the AF-2 model. It is distinguished by a decorative front plate of red, black and gold. Sister models were the AF, AF-3, AF-4 and AF-5, also known as the Minicam.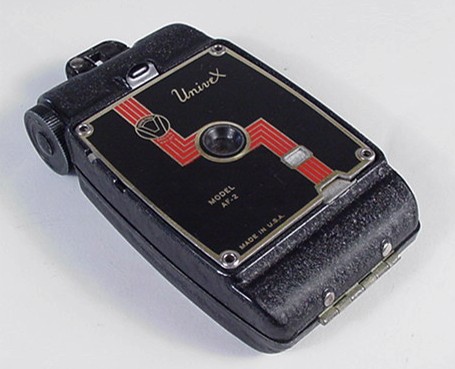 Closed Univex AF-2 Camera
This a small folding camera that fits neatly in the palm of the hand. The body is made of cast metal, the struts and front plate are aluminum. The bellows is made of paper. It is amazing how often I see Univex AF cameras, over sixty years old, with their bellows still in good condition. The camera front pulls straight out from the body, suspended by a pair of lazy tong struts. The AF-2 has a simple, fixed aperture lens. The shutter has settings for instantaneous and time exposure. A wire frame viewfinder (not shown in the photo above) is sited through a crude rectangular hole cast into the top of the body.
A red window is used to count exposures. All AF models required Univex #00 film, shooting six 1 1/8 x 1 1/2 inch (28 x 38mm) exposures per roll. Universal Camera Corporation attempted, with the introduction of a proprietary film size, to emulate the successful marketing strategy of George Eastman. That was, to give away the cameras, and make money on film sales and processing. Various Universal Camera Corporation cameras required Univex #00 film, including the Univex A, a small bakelite camera that sold for 39 cents in 1933!
| | |
| --- | --- |
| | Page created November 28, 2001; updated December 20, 2020 |