Scott's Photographica Collection
Universal Camera Corporation
No. 00 Roll Film

Box of No. 00 Roll Film
This is a box of unused Universal Camera Corporation Ultrachrome roll film with an expiration date of December, 1949. Univex brand cameras were manufactured and marketed by the Universal Camera Corporation of New York. Univex Ultrachrome film was manufactured by Gevaert of Belgium, and sold by Universal Camera Corporation for use in Univex cameras. No. 00 roll film delivered 6 exposures per roll.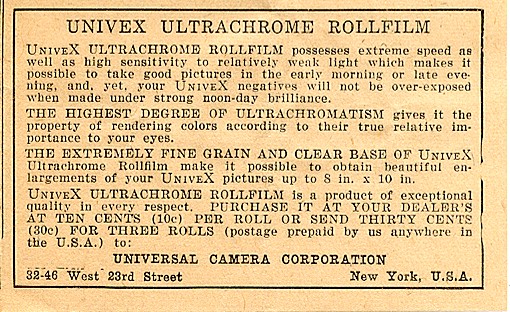 Univex Film Ad
An ad for Univex No. 00 rollfilm from the Univex A camera instruction sheet.
Follow this link to see a Univex AF-2 camera.
| | |
| --- | --- |
| | Page created November 28, 2001; updated December 20, 2020 |