Scott's Photographica Collection
Photographic Postcard of Children and a Dog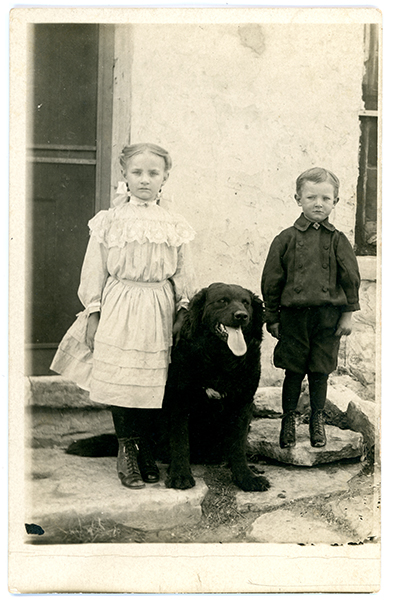 Children and Dog
In the early 1900s, the United States government relaxed postal regulations allowing private individuals to create their own photographic postcards. The making of postcards from family snapshots quickly became a popular form of expression.
There were two ways to create personal photographic postcards. Photo processors would print personal photographs onto postcard paper for the general public. For individuals with access to a darkroom, they could buy packaged postcard printing paper and do the job themselves. When I was a teenager with my own darkroom, I enjoyed printing postcards from my negatives.
The first Kodak roll film camera made for postcard sized images (3 1/4 x 5 1/2 inches) was the No. 3A Folding Pocket Kodak introduced in 1903. This was a very popular model, as were postcard format cameras from other manufacturers. It was also possible to purchase glass plates and sheet film in this size. If you would like to see an example of a vintage wood-bodied postcard glass plate camera, follow this link to the Seneca No. 9 Camera page.
Not all photographic postcards followed the USA size convention of 3 1/4 x 5 1/2 inches. During the early to first-half of the 20th century a number of street cameras created postcards with other dimensions. Perhaps the smallest, measuring 1 3/4 x 3 inches, was produced by a Chicago Ferrotype Company street camera. One of their cameras, the Mandelette Postcard Camera is featured on this site.
Back of Postcard
This postcard has a divided back - the addressee information is written on the right and the message on the left. In 1907 the United States government permitted the use of divided back cards. Difficult to see in this scan, but the word AZO outlines the postage stamp area, and there a four arrows pointing up in each corner of the outline. AZO was an Eastman Kodak brand of printing paper. The four upward pointing arrows indicate that this paper was manufactured between 1904 and 1918. This information allows us to date the photograph to between 1907 and 1918 or perhaps 1919.
| | |
| --- | --- |
| | Page created October 22, 2002; updated December 20, 2020 |