Scott's Photographica Collection
Ica A.G.
Camera Catalog, 1922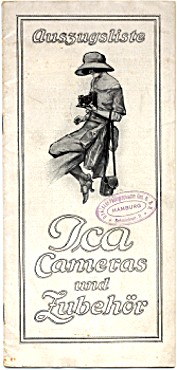 Ica Camera Catalog
Ica A.G. of Dresden, Germany was formed by merger in 1909. In 1926 Ica merged with Contessa-Nettel, Ernemann and Goerz forming the photographic giant Zeiss-Ikon. Ica manufactured high quality cameras and photographic equipment.
If you are researching one of the camera models listed below and would like to receive a scan of a catalog page, let me know. I would be happy to email this to you gratis.
This illustrated 24 page catalog dated 1922 measures 110 x 230 mm. Text is in German. The catalog does not list prices. A retailer's stamp on the cover appears to read Deutsche Photographische Ges. M. D. H. Schmiedstr. 11, Hamburg. The following camera models and accessories are listed in the catalog:
Bebe
Atom
Sirene
Niklas
Icar
Trona
Ideal
Maximar
Orix
Minimum-Palmos
Icarette
Alpha
Halloh
Lloyd
Lola
Lloyd-Cupido
Nixe
Polyskop
Stereo-Ideal
Spiegelreflex
Kinamo
Diaphot exposure meter
tripods
filters
a large list of lenses
various shutters
Most cameras were offered in a variety of film sizes and with various lens and shutter combinations. A staggering range of choices are presented in the catalog's 24 pages.
If you are looking for additional information on Ica cameras, see the Ica Product Line Table.
| | |
| --- | --- |
| | Page created June 22, 2001; updated December 20, 2020 |