Scott's Photographica Collection
J. Decoudun
Photometre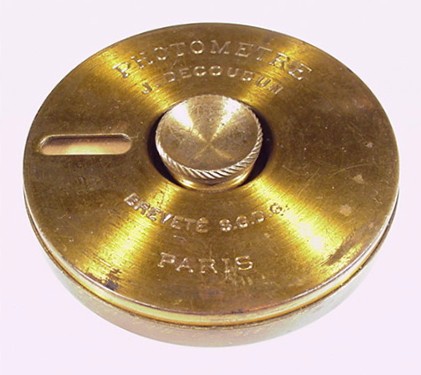 J. Decoudun Photometre
The Photometre, introduced in 1888 and manufactured by J. Decoudun of Paris, France, is a very early photographic extinction exposure meter. For an explanation of extinction exposure meters, see the Heydes Aktino photometer page.
Not only was the Decoudun Photometre an early exposure measurement device, more importantly, it was the first TTL (through-the-lens) exposure meter. The meter was designed to be held against a plate camera's ground glass viewing screen rather than aimed directly at the subject. Through-the-lens electric exposure meters are now the norm in single-lens-reflex, cine, digital, and certain rangefinder cameras, and accessory TTL electric exposure meters are available for large-format cameras. It took nearly one hundred years for this technology to mature.
A slot can be seen on the front of the meter casing. This is the meter's viewing window. A disc is located inside the instrument. Rotating the front central knob positions one of sixteen holes in the viewing slot. A letter, from A to P is associated with each hole, and can be seen when looking at the back of the meter. Each hole admits a different amount of light through the instrument. The photographer holds the meter against the camera's ground glass viewing screen and, looking through the viewing window, rotates the central knob until light passing through the camera and meter just becomes visible.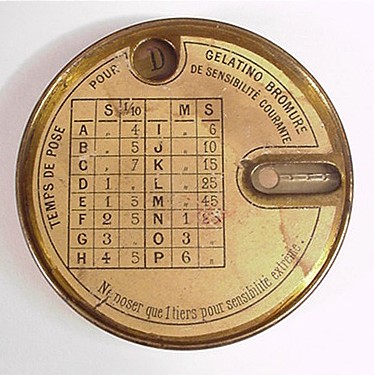 Back of Decoudun Photometre
An exposure table is located on the back of the Photometre. Notice the letter D in the round window above the exposure table. Also notice the elongated window at the 3 o'clock position. This window is opposite the viewing window. A portion of the rotating disc with its light-admitting hole is visible in this view. A different letter appears in the circular window as each hole is positioned in the elongated window. The letter that appears when the photographer is able to see light through the instrument is noted against the exposure table. Exposure times listed in this table range from 4/10 second to 6 minutes. Notice that the exposure time corresponding with the letter D is one second.
Lens aperture settings are not listed in the exposure table, only exposure times. Because the instrument is positioned behind the camera lens, aperture setting is automatically taken into account in calculating the exposure.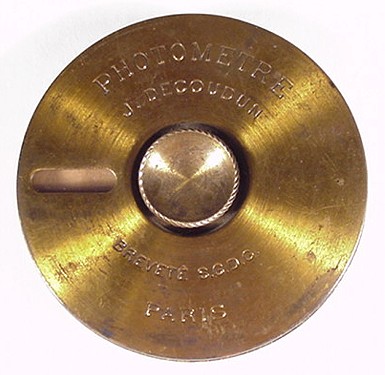 Front of Decoudun Photometre
Another view of the J. Decoudun Photometre, the world's first through-the-lens exposure meter.
| | |
| --- | --- |
| | Page created June 17, 2002; updated December 20, 2020 |