Scott's Photographica Collection
Heydes Aktino Photometer

Front of Heydes Exposure Meter
The Heydes Aktino Photometer, an early and popular extinction photographic exposure meter, was manufactured in Germany. It was introduced in 1905 and sold in many countries for three decades.
Before the introduction of the electric exposure meter in the early 1930s, two types of instrument were typically used for exposure measurement. One, the actinometer, used bits of photographic paper that were exposed to the light falling on the subject. Exposure was determined by measuring the time it took for the paper to darken to a set standard.
Extinction meters were designed in various ways to vary the brightness of the subject as viewed through the instrument. While looking through an extinction meter, a photographer would manipulate a control that admitted greater or lesser amounts of light. Adjustment was made until light just became visible. At that point, calibrations on the meter indicated the correct exposure. This description of the workings of extinction meters is necessarily vague, because a variety of methods were used in practice. In the Heydes photometer, as the instrument's outer edge is rotated, an optical wedge diminishes the light seen through the eyepiece.
Extinction exposure meters were popular long after the introduction of the electric exposure meter. Decades passed before electric exposure meters were competitive in price with extinction meters, and before the general public could justify their expense.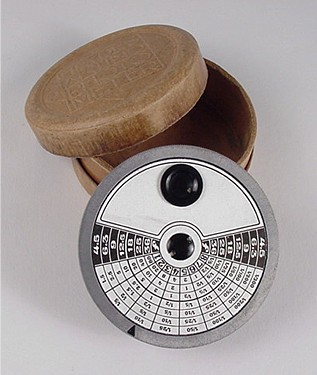 Heydes Exposure Meter and Cardboard Container
This back view of the Heydes exposure meter shows the exposure scale. The scale is calibrated in exposure times ranging from 1/300 to 80 seconds and f-stops from f/4.5 to f/36. I have a similar Heydes meter with a slightly different scale design and calibrations to 160 seconds and f/50.
The Heydes meter is very simple to use. The photographer views the subject through the meter eyepiece and rotates the ribbed edge of the casing until the scene disappears. An arrow on the back of the casing will point to an outlined section on the meter scale. Each section lists a series of shutter speeds, and corresponding to each speed, its associated lens aperture (f-stop). Any of the listed shutter speed/f-stop combinations can be chosen for a correct exposure.

Heydes Meter, Box and Tin
This example is accompanied by a cardboard container with the Heydes design molded into its lid as well as a metal tin. I have seen later model Heydes meter tins with this same graphic design stamped into the tin's lid.
| | |
| --- | --- |
| | Page created May 28, 2002; updated December 20, 2020 |