Scott's Photographica Collection
Japanese Yen Camera, ca 1930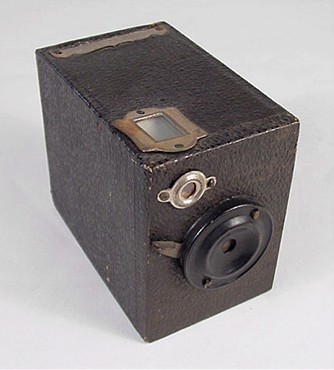 Yen Camera
A variety of small inexpensive box and folding cameras were produced in Japan during the 1930s. The cameras sold for one Yen, thus they are called Yen cameras.
Yen cameras share common characteristics, with minor variations in details. They generally have a fixed focus, fixed aperture meniscus lens, reflex viewfinder, ground glass viewfinder and simple shutter. The best shutters had instantaneous and bulb settings. The shutter on this example is so simple it does not have an instantaneous speed. Some cameras had name plates; many were anonymous. I doubt anyone today knows the identity of the various manufacturers.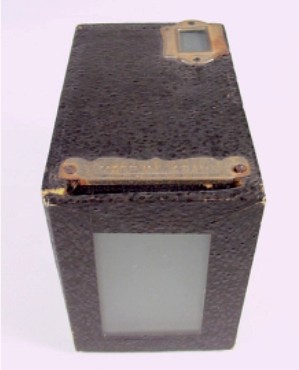 Back of Yen Camera
This view shows the rear ground glass viewing screen and film loading slot. Yen cameras shot single sheets of film that were contained in paper holders.
This Yen camera is approximately 2 inches tall, 2 inches wide and 3 3/4 inches deep. The ground glass viewing area measures 30 by 45 mm. The camera body is constructed of thin wood with a textured paper covering.
| | |
| --- | --- |
| | Page created January 24, 2002; updated December 20, 2020 |