Scott's Photographica Collection
Eastman Kodak Vanity Kodak Camera
Vanity Kodak Camera
Vanity Kodak cameras are identical to the Vest Pocket Kodak Series III camera with the exception that the Vanity model was offered with a colored covering, matching bellows and matching satin-lined clamshell case. Vanity Kodaks were available in gray, brown, red, blue and green and sold from 1928 to 1933.
Vanity Kodaks take size 127 roll film and produce a 1 5/8 x 2 1/4 inch, or 4.5 x 6cm negative. This is a compact and user-friendly camera capable of delivering good results outdoors. The shutter has time, bulb and 1/10 to 1/100 second settings. The aperture is adjustable from f/6.3 to f/32. This degree of control was adequate for the films of the day. An exposure meter was not required. Surrounding the lens is an exposure calculator that can be used to choose aperture and shutter settings based upon whether the day is dull, gray, clear or brilliant.
All Vanity Kodaks were sold with the Autographic feature. Notice a chrome stylus clipped into a holder on the side of the lens mount. Autographic cameras allowed the photographer to make notations on the film. The stylus was used for this purpose. The handwritten notes appeared on the edge of the processed prints. A box of Autographic film is presented on the Autographic Film page.
This brown colored Vanity Kodak is fitted with a gray bellows. Vanity Kodaks were made with color-matched bellows. The colored bellows were fragile. When cameras were sent for repair, original bellows were usually replaced with more durable black ones.
It seems odd that if the original bellows on this camera was replaced that it would have been with gray. The woman who sold this camera said she received it new as a gift when she was young. She had no recollection of having the camera repaired. Was this color combination issued by the factory?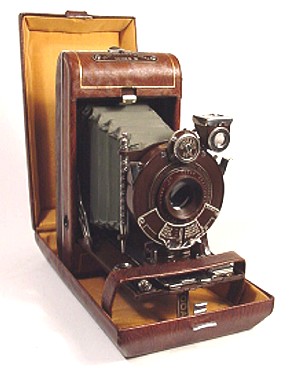 Vanity Kodak Camera With Matching Clamshell Case
Closed Vanity Kodak Camera in Clamshell Case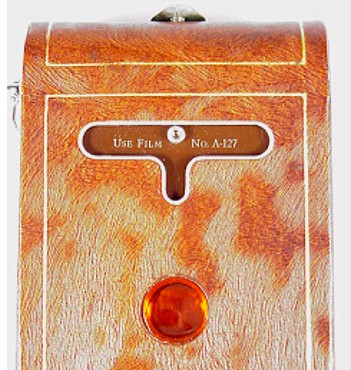 Autographic Back
This view shows the camera's autographic back. To write notations on the film, the cover plate is slid open, revealing a section of the film's paper backing. Notes are scribed onto the backing paper with the camera's stylus. The cover is left open for a few seconds to expose this section of film to the light and then closed. The scribed notation will appear in the border of the finished photograph.
A Second Vanity Kodak with Non-Matching Gray Bellows
I received an email from collector Ryan Reuterskiold, along with a photograph of a Vanity Kodak in his collection. Ryan's blue Vanity Kodak has a gray bellows. If you have any thoughts or information on non-matching cameras with gray bellows, please contact Ryan at rreuter@ticon.net and me - Scott at scott@vintagephoto.tv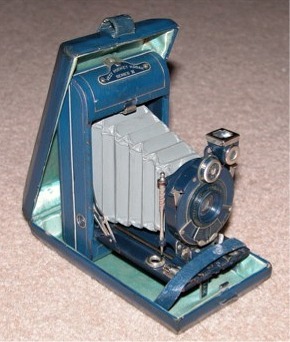 Blue Vanity Kodak with Gray Bellows
| | |
| --- | --- |
| | Page created June 6, 2001; updated December 20, 2020 |