Scott's Photographica Collection
Hensoldt Tami Pocket Microscope
The optical goods manufacturer, Hensoldt of Wetzlar, Germany first introduced the Tami microscope in 1920. Tami is a contraction of the German word taschenmikroskop, meaning pocket microscope. The Tami is a solid and rugged instrument designed for field work. This example has seen some use, but it still delivers a clear, sharp image.
Serial number 6234 is engraved in the cover. The microscope when collapsed is 4 inches tall, its height with both tubes extended is approximately 7 1/2 inches. The Tami uses a double drawtube for variable magnification and has micrometer screw focus. The stage is a sealed removable unit consisting of a heavy glass plate with a small concave mirror fixed below, set into a metal cylindrical mount. The stage can be rotated for best illumination. The sturdy brass cover is quite heavy, so the total weight is nearly one pound.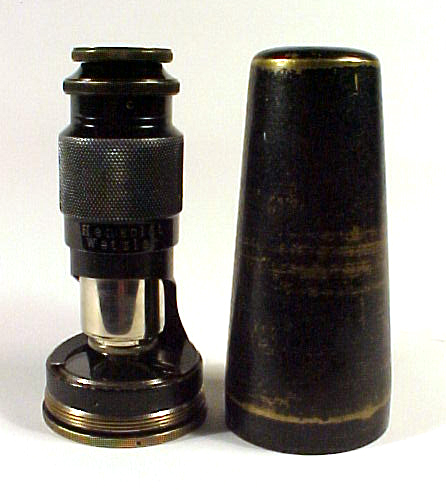 Tami Microscope in collapsed position with its cover

Side view of Tami Microscope with one drawtube extended

Tami Microscope stowed in its cover

Top view of Tami Microscope cover


Tami Microscope fully extended
This item was offered for sale/trade. It is no longer available.
| | |
| --- | --- |
| | Page updated December 20, 2020 |