Scott's Photographica Collection
Eastman Dry Plate and Film Company
No. 2 Kodak Camera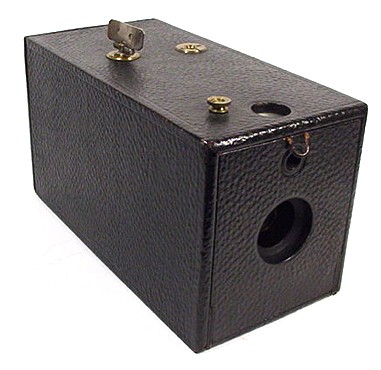 No. 2 Kodak Camera
The No. 2 Kodak was the third camera produced by the Eastman Dry Plate and Film Company - the company known as Eastman Kodak today. The first Kodak camera introduced in 1888 was named The Kodak Camera. Collectors now call that model the Original Kodak. An improved model named the No.1 Kodak replaced the Original Kodak in 1889. Also during 1889, the No. 2 Kodak was introduced.
Both the Original Kodak and the No.1 Kodak took 2 1/2 inch diameter circular photographs. The No.2 Kodak was physically larger, and produced a 3 1/2 inch image. Collectors call these three models string-set Kodaks. In all, Kodak manufactured thirteen different models of string-set Kodak cameras between 1888 and 1897. String-set refers to the way the camera shutter is armed. A string that is connected to the shutter mechanism protrudes from the camera top. To arm the shutter, it is necessary to pull this string.
Film for the first seven string-set Kodak models was pre-loaded at the factory. To process the exposed film the customer sent the camera back to the factory. There the film was processed, prints were made, the camera was reloaded with a fresh roll of film and the camera was shipped back to the customer. It was also possible for customers to load their own film. Rolls were available in 60, 100 and 150 exposure lengths.
Due to the ability of the No. 2 Kodak to accept very large film rolls, for the traveling photographer, Kodak recommended this model over other available Kodak roll-film cameras requiring more frequent reloading. An advantage claimed by Kodak of the models taking round pictures, was that the photographer did not need to worry about holding the camera level! I think that was a great idea.
No. 2 Kodak With Front Cover Opened
The opened front cover of this No.2 Kodak reveals the lens, sector shutter, aperture disc, setting string and viewfinder. George Eastman's sector shutter patent can be found on the patents page.
The No. 2 Kodak is a comfortable size, fitting well in the hand for a camera capable of producing a 3 1/2 inch image. It measures 4 1/2 x 5 x 9 inches, and loaded with film, weighs 2 pounds, 12 ounces.
| | |
| --- | --- |
| | Page created September 5, 2001; updated December 20, 2020 |