Scott's Photographica Collection
Miniature Wooden Tripod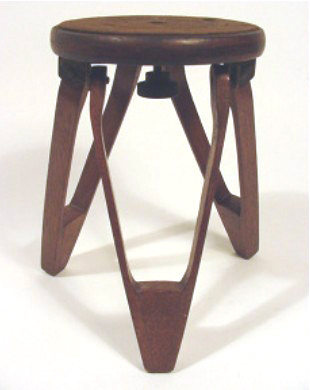 Very Small Wooden Tripod
This tiny tripod is a total mystery to me. It stands just 6 3/4 inches tall. The legs, made of mahogany, are removable and clip into brass brackets mounted under the round felt covered head. The head is a wood laminate typical of full-sized tripods of this vintage. There is a standard 1/4 x 20 screw for mounting a camera. All these features were standard in tripods of 100 years ago. However, unlike most larger tripods, the legs do not have extensions; they are fixed in length.
There are two opinions among the collectors I have asked as to what the purpose of this tripod could have been. The first is it could be a table top tripod. But I have tried mounting small cameras of the period and find the arrangement unstable and totally inflexible (the camera must face straight ahead). Here is a photograph of a very small 4 x 5 camera ca 1900 mounted on the tripod.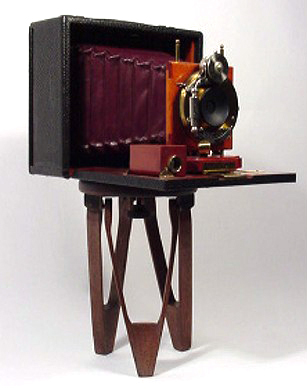 4 x 5 Pony Premo Mounted on Tripod
The second opinion is it was a salesman's sample. This makes more sense to me. Perhaps the sample was used to show the general quality of workmanship and construction, which is excellent. But what the sample cannot show is the design and construction quality of leg extensions, which did vary from make and model.
Any ideas?
| | |
| --- | --- |
| | Page created June 4, 2001; updated December 20, 2020 |