Scott's Photographica Collection
Folmer & Schwing Division
Eastman Kodak Company
Graflex Results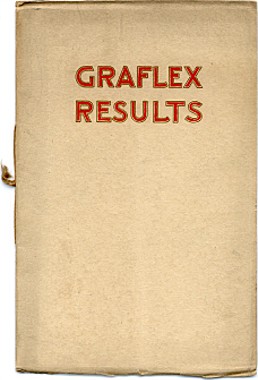 Graflex Results is a 31 page booklet by C. H. Claudy, Copyright 1908, Folmer & Schwing Division of the Eastman Kodak Company, Rochester NY.
This promotional booklet is profusely illustrated with sample photographs across a wide range of subjects. The author describes how best to use Graflex cameras for pictorial, portrait, animal, child and sports photography. The operation of Graflex cameras is discussed in general.
A single page lists prices, by image size and choice of lens, for the following cameras:
Auto Graflex
Press Graflex
3A Graflex
Revolving Back Auto Graflex
Stereo Auto Graflex
Naturalist's Graflex
Lens choices include Bausch & Lomb Zeiss Tessar, Goerz, Isostigmar, Cooke, and Bausch & Lomb Zeiss Protar.
The tan paper cover is oversized, so the edges are slightly worn. The title page has a 1/4 inch tear. There is a barely perceptible longitudinal crease. All else is clean, clear and legible. The original tan string binding is intact. The booklet is in generally excellent condition. Page size is 5 1/2 x 8 1/2 inches.
This item was offered for sale/trade. It is no longer available.
| | |
| --- | --- |
| | Page updated December 20, 2020 |