Scott's Photographica Collection
Fasoli Luigi
Film Wallet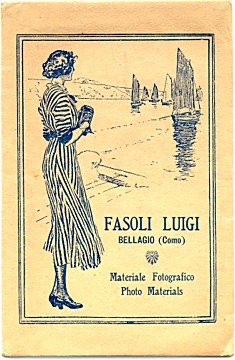 Film Wallet From Bellagio, Italy
When I purchased this vintage film wallet, I did so because I liked the way it looks. I didn't know at the time this item is called a film wallet. I thought of similar objects as film processing envelopes. And I didn't realize that the woman wearing a striped dress and holding a folding camera was a Kodak Girl. I learned these two facts the day I ran across the KodakGirl Web site.
I assume Fasoli Luigi is the name of a photographic retailer in Bellagio, Italy. The wallet is a paper envelope used to return a customer's negatives and prints after processing. Although I can't read Italian, I can see that the inside and back cover contain advertising for Kodak film, Kodak Velox paper and Brownie cameras.
This is an example of the kind of accent that can give a collection depth and warmth. But then, that depends upon your collecting specialty. Look at the KodakGirl Web site to see what I mean.
| | |
| --- | --- |
| | Page created June 23, 2001; updated December 20, 2020 |