Scott's Photographica Collection
Houghtons Ltd.
Ensignette No. 2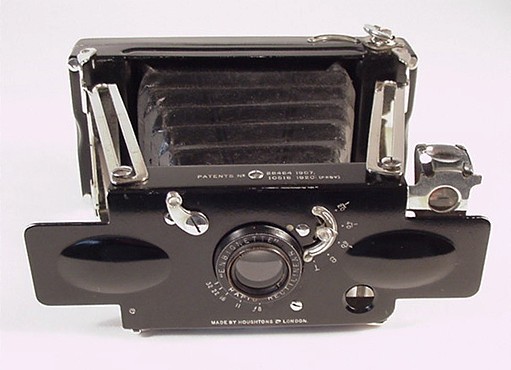 Ensignette No. 2 Camera
What is that interesting looking camera with the big cheeks?
It's an Ensignette No. 2 folding camera from Houghtons Ltd, London England ca 1920.
Ensignette cameras, manufactured ca 1909 - 1927, were available in a variety of finishes, lenses and shutters. Early camera bodies were made of brass, later bodies of aluminum. In addition, Ensignettes were available in three different sizes. Image size for the No. 2 model is 2 by 3 inches on Ensign E2, E29 or Kodak 129 rollfilm.
The photo above shows the Ensignette in a horizontal position. Notice the waist-level viewfinder at the upper right front. The viewfinder is swung into this position for horizontal use. For vertical shots it is rotated down, out of site, so that the viewfinder lens peers through a round cutout in the front panel.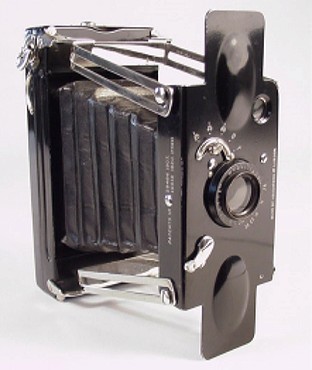 Ensignette No. 2 Camera
The Ensignette's stylish wings serve as a stand when the camera is set on its side. The shutter on this example is self-cocking with speeds of time, bulb, 1/20, 1/40 and 1/60. The lens is an Ensignette Rapid Rectilinear with stops from f/8 to f/32. Focus is not adjustable.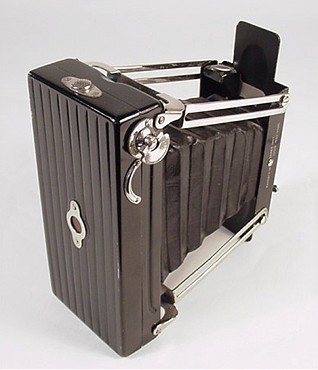 Back of Ensignette No. 2
The Ensignette is a strut folding camera. As you can see, the camera front is suspended by four struts. When extended, the front panel feels secure and rigid, even though it is not supported by a bed. Notice the red window for counting exposures. The viewfinder is now in its vertical position, tucked away behind the front panel. On top of the back edge is the back latch, on the upper side is the film wind key. There is a curved piece of metal just below the film wind. There is another one on the opposite side. These are finger grips. They give a place to grasp when opening the camera back. A nice design feature.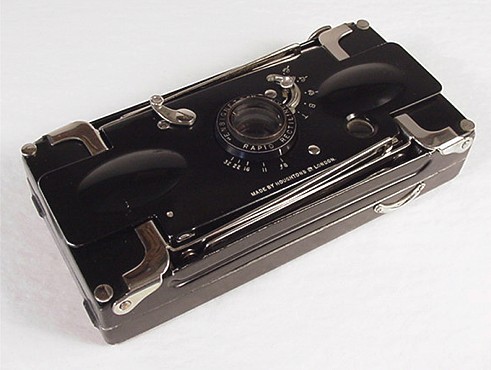 Folded Ensignette No. 2
The Ensignette is compact when folded, measuring approximately 5 inches wide by 2 1/2 inches high by 3/4 inches deep. The body of this example is made of aluminum. This feels like a light camera to me. My postage scale says it weighs 1/2 pound.
Additional Information
The Ensignette camera was designed by Swedish inventor Magnus Niéll. Two other Magnus Niéll creations, the Expo Watch camera , and the Ensign Midget camera are featured on this site.
| | |
| --- | --- |
| | Page created January 27, 2002; updated December 20, 2020 |