Scott's Photographica Collection
Cabinet Card Portrait of a Spaniel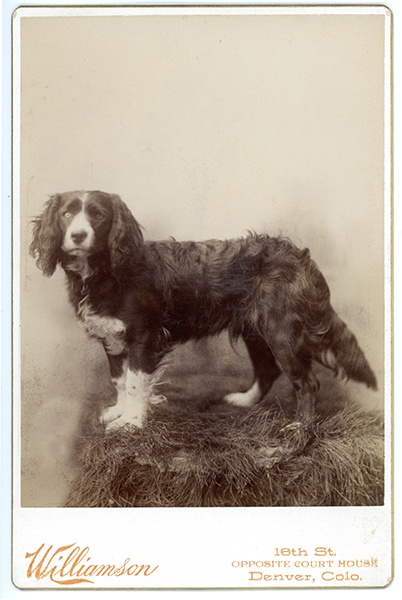 Cabinet Card Portrait of a Spaniel
Cabinet card photographs were introduced in the United States in 1866 and were a very popular format until the early 1900s. The cabinet card is a photograph generally measuring 4 by 5 1/2 inches, mounted on a 4 1/4 by 6 1/2 inch card. It was typical for the photographer's name and address to appear on the face and often the back of the card.
Cabinet cards were produced by studio photographers, often in elaborate indoor settings, and by itinerant, or traveling photographers outdoors. Although the most common cabinet cards found today are studio portraits, it is not difficult to locate outdoor portraits, landscapes, town views and other interesting scenes from the past.
This portrait of a dog was posed in a studio. Either the dog was well trained, or the photographer had a talent for animal photography. Perhaps both were true. During the cabinet card period, especially before the 1880s, exposure times were fairly long so it was important that the subject not move. In this photograph no one is seen holding the dog. I am impressed with the spaniel's composure.
Cabinet card portraits of dogs are not truly rare and yet they are not very common. A portrait session in the mid-to-late 1800s was a costly expenditure for the average person. I would imagine a dog having an even more difficult time paying for a portrait.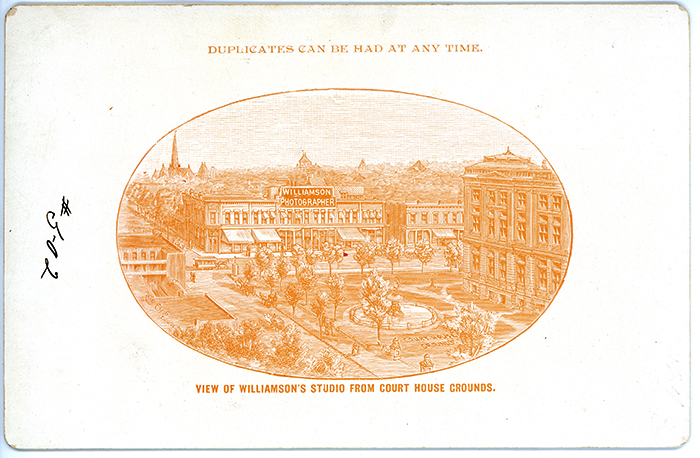 Back of Cabinet Card
The photographer's impressive imprint appears on the back of the cabinet card. The photographer's name is Williamson. His studio was located at 16th Street, Opposite the Court House, Denver, Colorado.
Although the vast majority of cabinet cards found today are uninspiring, unidentified portraits, an interesting collection can be built of the often elaborate and ornately decorated backs of these cards.
| | |
| --- | --- |
| | A navigation frame with links to other pages on this site should appear on the left of this page. If it is not there, click HOME to make it appear. |
This page was updated April 1, 2002