Scott's Photographica Collection
Lumière and Jougla
Box of Autochrome Plates
Box of 4x5 inch Autochrome Plates
This is a partially used box of Autochrome glass plates. The Autochrome, invented by two Frenchmen, August and Louis Lumière, was the first commercially successful color process and a very popular means of making color transparencies. Introduced in 1907, Autochromes were available until the mid-1930s.
In 1932 Lumière introduced Filmcolor, a color sheet film similar in technology to the Autochrome, which it replaced. In 1934 Lumicolor, a roll film debuted. Lumicolor was an improvement over Filmcolor in that the orange filter required by Filmcolor and the Autochrome, was no longer needed. Lumière's final additive color film Alticolor was introduced in 1952. By then, newer processes such as Kodachrome and Kodacolor commanded the color film market.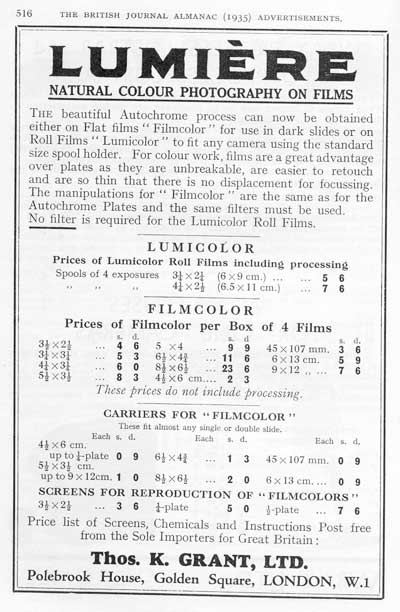 Lumière Filmcolor and Lumicolor Advertisement
British Journal Photographic Almanac, 1935
You will find additional information on Autochromes and an example of an early color portrait on the Autochrome Portrait page. Follow this link to see a copy of the USA patent for Autochrome plates.
| | |
| --- | --- |
| | Page updated December 20, 2020 |